What To Expect From a Small Business Law Firm
At JGPC our entire focus is on small business law.  Our business is Business, privately owned Businesses.
That means we are always working with business owners and startup entrepreneurs.
When you start working with a small business law firm very often your attorney's first step will be to see if you're operating with the best form of business organization for your business.
In fact, the most common question we get from new clients is: "how should I be doing business?"
Should I be using a corporation?
Am I safe operating as a sole-proprietorship?
Is there anything wrong with my current partnership agreement?
Do I need to set up a corporation or an LLC?
Small business law is complicated. New clients don't always know the correct questions to ask. Typically they may ask us something like, "I've been doing business for 20 years as a sole-proprietorship. My accountant told me that might not be a good idea because of the liability. What should I do?"
It's often a third party such as their accountant, another lawyer, or another business person who highlights the need for a review of the form of business and possible dangers.
It might surprise you, but there are some significant companies operating with an incorrect entity structure. They may be taking in $20 Million a year in revenue, have 50 employees, and operate a fleet of vehicles. But they have zero liability protection. It's insane, but we see it all the time. Or they may be unnecessarily paying tens of thousands of dollars in taxes.
Often they will ask us: "is this the best way for me to do business? Am I safe doing business this way?"
As a small business law firm we have the expertise to help them get their house in order.
How Our Expertise in Small Business Law Can Help You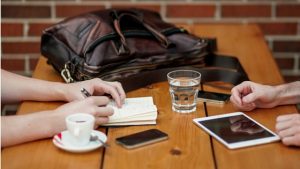 As a new client, one of the first things you need to know is whether your business is operating with the best possible form of business and the best entity structure.
We begin by exploring the nature of your business:
Who owns the business?
What kind of business is it?
How many employees do you have?
What do they do?
Is it a high risk business, or an extremely low risk business?
Then we explain your options.
Naturally our initial conversation is focused on our new client's specific issues, and isn't always this broad. But these are some of the more common questions you can expect in the early discussions. This information helps us craft a strategy for protecting your personal assets and meeting your business goals.
Do You Have a Small Business Law Question?
When it comes to entity selection there's no one-size-fits all solution. The law is complicated and for most businesses the corporation or LLC-in-a-box for $69.99 won't provide the protection you need.
If you're not sure whether you have the right entity set up for your business you can contact us at JGPC law for a free consultation.